2023 EO LACademy – México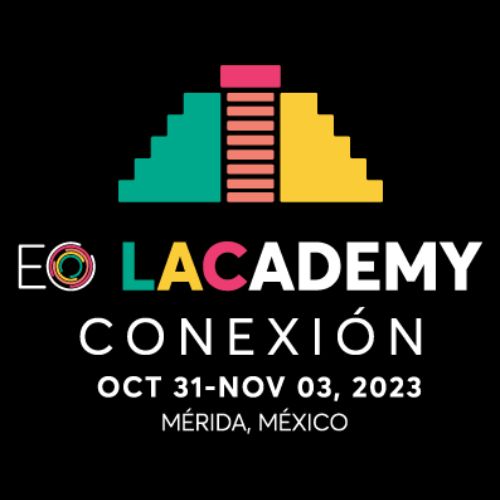 Date: Tuesday, October 31, 2023 at 6:00 PM through Friday, November 3, 2023 at 11:00 PM
This year´s LACademy comes to
Mexico
! A country rich in culture, traditions, food, tequila and much more. Don´t miss this opportunity to come together with your fellow members from all of
Latin America
and the
Caribbean
, to experience
3 days
of learning, networking in a
magical place
where you will find history, routes, gastronomy among many other things about Mexico.
For the first time in
LACademy
, you can now register to showcase your business at the
LAC EO Expo
in Merida on Nov 1st and 2nd 2023.
This event will give you the
opportunity
to exhibit your products and services to EO members, and
engage
in peer-to-peer interactions.
Don't miss out
on this valuable opportunity to expand your business horizons.
Expo prices
include a ready-to-use stand with your company's logo backdrop, 1 table, 2 chairs, screen for video loop and power outlet.
Please note that your booth will be
open
to all attendees on
November 1st & 2nd
, parallel to LACademy's full day agenda.
FORUM DISCOUNT
Register 4 Forum members and get 50% off on an additional registration.
Register 5 or more Forum members and get one additional free registration.
AGENDA AND DATES
Tuesday, 31 October
– Arrivals | LACademy Kick off night social with
2023 EO Mexico Exploration
.
Wednesday, November 1
– LACademy Day 1: Key note speakers | EO Expo | Evening Social.
Thursday, November 2
– LACademy Day 2: Key note speakers | Offsite Experience | Themed Evening social.
Friday, November 3
– LACademy Day 3: One (1) Offsite Once in a lifetime Experience (to pick from 5 different options). | Departures after 7pm.
MyEO Events
MyEO Golf
Register Here!
MyEO Unlock the Power of your Mind
Register Here!
Visita El Rancho Tikva
Register Here!
Cenote Scuba Diving
Register Here!
Hiking in Merida
Register Here!
LACademy Packages
Member:
US$1,250
Register Here!
Member + SLP:
US$2,000
Register Here!
Expo only:
US$750
Register Here!
Member + SLP: LACademy & Expo:
US$2,550
Register Here!
Includes a once-in-a-lifetime experience, all meals and ground transportation during the event
Prices do not include hotel, airfare or airport transfers.
TO BOOK YOUR HOTEL, CLICK
HERE
.
For more information on the event please visit the
EO LACademy Website
.